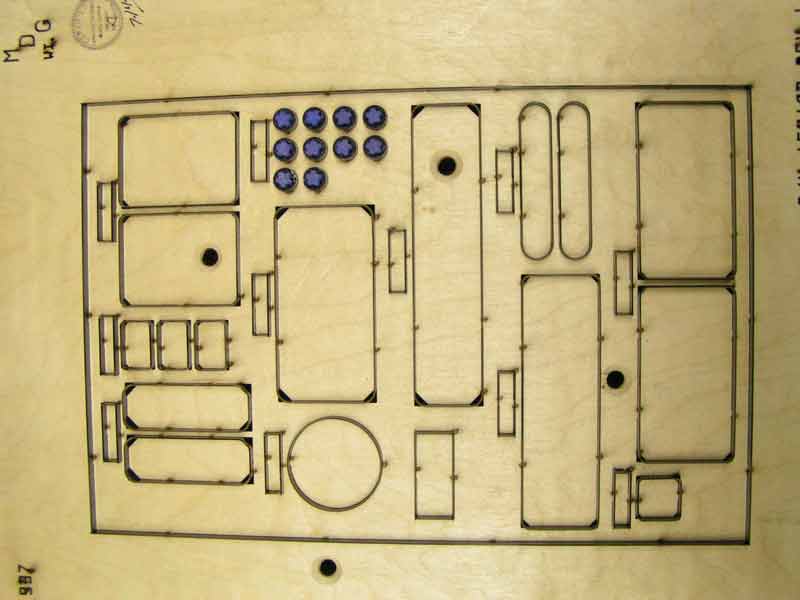 Dies for Graphic Panels & Overlays
Not only does Millennium Die Group produce dies, they produce solutions! 30 years experience in building dies for plastics have brought us to innovative approaches to solving die-cutting problems. The Millennium Die Group EJECTOR PLATE PROCESS virtually eliminates crimping and edge curl on tiny ribs between small openings. You won't believe what a remarkable improvement the Millennium Die Group EJECTOR PLATE can lend to your die-cut product.
Millennium Die Group realizes how the smoothest diecutting job can become a nightmare of a stripping problem. That's when a Millennium Die Group MATCHED STRIPPING JIG can pay big dividends. Precisely registered to your cutting die and your diecut part, this magnificent device can cut your internal stripping time in half!
It's another added plus available with most Millennium Die Group precision laser cut tooling. It's another reason why you should choose the technology leader in diemaking as your steel rule die supplier of choice.
Some configurations defy steel rule die tooling, causing rules to jam and twist prohibiting a properly cut part. Enter Millennium Die Group SPECIAL HARD TOOL INSERTS. These tiny hardened steel cutters blend perfectly with the rest of your steel rule die, giving you a perfectly top-performing tool They can be made in almost any configuration, and can even be designed to automatically clear the internal waste. These innovations are brought to you by the leader in steel rule die tooling.
Request a quote online.
Place an order online.
Check the status of your order online.
Millennium Die Group – Superior Tooling through innovative steel rule die design.