Why Choose Millennium Die Group?
There are several companies that say they can offer you a high quality die at a competitve price, why choose Millennium Die Group?
The answer is simple… QUALITY, SERVICE AND CAPABILITIES!
Quality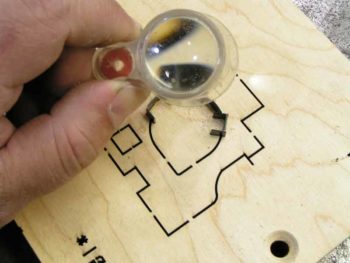 We at Millennium die Group pride ourselves on the quality of our craftsmanship. Only the highest quality materials are used in the production of every die. During each step of the production process, we inspect the quality of the materials and our work. Before each die ships from our facility, it will undergo an inspection with a digital optical inspection scope. Upon completion of the final inspection, the die will be certified by our quality control department. Our goal at Millennium Die Group is to produce your die correctly "First Time, Every Time".
Service
We know that the most important thing to you is your customer. We will work with you every step of the way to assure that you can meet your customers' needs. We want your experience with Millennium Die Group to be as stress free as possible. We can offer your company:
Quotes in sixty minutes or less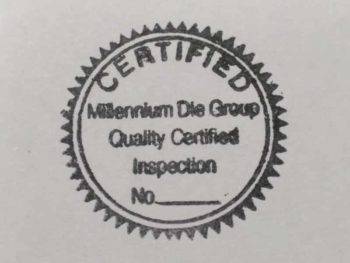 Pre-testing your materials for shrinkage
Recommendations in regard to rule type and ejection material
Immediate response if a problem should arise
Quick production turn around of your dies
Professional and efficient delivery options
24 hour customer service
Millennium Die Group has assembled an experienced and professional staff that realizes our continued success depends upon your success.  Working in close partnership with you, we will grow together.
Capabilities
Millennium die Group is a specialty steel rule die shop.  We produce high quality, close tolerance, steel rule dies at competitive prices.  We work with a variety of board types, rule heights, pointages and build a range of flat die types:
Board Types
Maple (Premium)
(Thickness 1/4″, 3/8″, 1/2″, 5/8″, 3/4″, 11/16″, 7/3″, 1″)
Birch (Thickness 1/2″, 3/8″)
Rayform (Thickness 1/2″, 5/8″, 3/4″)
Lexan (Thickness 1/2″)
Aluminum (Thickness 1/2″)
Laser Cut Die Boards
Laser Etched Die Boards
Hand Jigged Aluminum Plates
Floating Dies
Die Build ups
Stripper Boxes
Stripping and Blanking Fixtures
Male/Female
Counter Plates
Stackers Wood
Laser Cut Steel Plates
Plate Thickness 1/16″ and 1/8″
Stainless Steel
Bar Plate
Laser Cut Kicker Plates
Ejection Material: Cork or Rubber
Rubber: Pieces, Strips, Sheet or
Waterjet Cut
Variety of Colors and Densities available
CNC Machine Bent Steel Rule
Rule Height
8mm, 12mm, .918, .937, 1″,
1 1/8″, 1.25″, 1.5″, 1.75″, 2″,
2.5″, 3″
Pointage
1.5, 2, 3, 4
Bent Rule Segments
Custom Rule Height Grinding
Cryogenically Treated Rule
Rule Knicking from .008 and up
Punches:
Side-out, Feed Through,
w/Ejection Rubber or Springs,
Custom Order Punches available
Spot Welding
Wire Welding
Brazing
Reverse Engineering
Digitizing
Mylar Prints/Die Lines
Optical Inspection Scope
Die Certification
Die Strike
Typical Tolerance +/- .005