Millennium Die Group, manufacturer of steel rule cutting dies, was founded in 1953 as the Stan-Allen Company in Springfield Massachusetts as a sole proprietorship and was incorporated in 1967. In 1999 the company was purchased by the current owner, Richard Sweeting. The purchase was based on the belief that a larger company can be built on the existing foundation by taking advantage of technology and enhanced professionalism.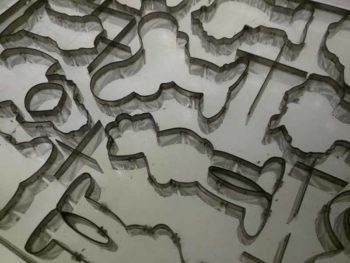 The firm manufactures steel rule cutting dies, which are used for die-cutting soft goods such as folding cartons, printed folders, gaskets, labels, control panels and overlays, membrane switches and medical disposables. This is in contrast to "tool and die" which are machined metal tools for cutting or punching harder objects and shapes. Products generally cut with our tools are cardboard, plastics and rubber. The firm traditionally did no die cutting, but will perform die cutting on request.
Our market consists of companies of all sizes but attention is focused on more technically advanced companies. The tooling produced is used in industries ranging from the paper and printing trades to electronic and aerospace manufacturers. Accounts are principally located in New England, and the Middle Atlantic states, and we have accounts throughout the United States.
Millennium Die Group is regarded as one of the best die makers in the nation in the high tech fields requiring precision die-cutting. Increasingly, we are also cost competitive for many simpler jobs that in the past would not have been pursued. Quality and delivery remain hallmarks of the Millennium Die Group, with the addition of technology to make us more competitive for all difficulty of dies. Convincing our customers, existing and new, of this change continues!
Millennium Die Group stays on top with state-of-the-art laser systems built by Data Technology and driven by a 2,000 watt PRC turbo laser. This unit slices very precise kerf in maple dieboard at speeds up to 100 inches per minute. The 66″ x 96″ CNC table system is driven by a PC CAD-CAM system.
The firm utilizes a CAD-CAM system, with networked, and Internet connected, PC's, to design its dies, and a CO2 laser to cut its dieboards. Two computer-driven rule benders augment the skills or our diemakers while improving our cost effectiveness. An optical inspection system is used to perform in-process and final inspection.
Now one CAD program drives the laser, bends the rule and aids the final inspection of the die, for complete integration of the skill of diemaking, automatically and precisely. With the Internet and rapid file transfer, time from ordering to shipping is greatly reduced, with increased accuracy!